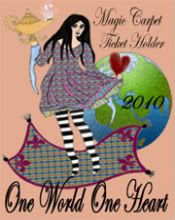 ONE WORLD ONE HEART ~ KINDRED SPIRITS COMING TOGETHER
Lisa Swifka a whimsical Bohemian, artist, storyteller & dreamer is the creator & host of this event. In 2007 the original idea behind this giveaway event was to bring bloggers together from around the world. It closes the gap of the blog community & enables one to interact, discover new & wonderful people & in the process possibly win a prize(s). OWOH is really about finding kindred spirits.
This is an INTERNATIONAL event, it transcends geographical location, socio-economics, political affiliation & religious beliefs. Generating a closer community between humans through blogging.
Think of this as taking a giant tour of homes. You get to stop in, look around, meet the people who live there, admire & be inspired & before you go on to the next one you leave a comment with your name & you just might win a door prize too!
TODAYSGOLD ONE WORLD ONE HEART GIVEAWAY
THE VINTAGE FORBIDDEN PLANET 1967 POSTCARD
FEATURING ALTAIRA & ROBBY THE ROBOT
VALUED AT $25.00 ~ $35.00
Three lucky winners will be receiving one Forbidden Planet Movie Promotional Postcard. This is a beautiful 1967 vintage postally unused oversized 5 3/4" x 4 1/8" divided back postcard. Featuring: Anne Francis as Altaira 'Alta' Morbius in her pretty micro mini gold sequin dress & the beloved Robby The Robot. Published by Postal Oscarcolor, S.A. ~ Hospitalet Barcelona with a wonderful publisher's mistake.
Anne Francis was a popular & beautiful star in her day, so was Mitzi Gaynor. Anne Francis starred in Forbidden Planet & is on front of this Forbidden Planet promotional postcard, not Mitzi. Yet Mitzi's name is credited on back for the beautiful Altaira on front of this Forbidden Planet postcard. When a celebrity photo card or postcard has the wrong name of the celebrity, this mistake increases the value. Not a miss-spelling, but a real publisher's error by assuming the celebrity is some other celebrity.
* VINTAGE in postcard collecting means AUTHENTIC & ORIGINAL to a specific date. Vintage sixties movie & TV postcards are VALUED AT $25.00 - $35.00 & greater depending on condition. I love collecting vintage postcards & this is one of my favorite movie postcards. This Forbidden Planet postcard is a beauty!!!
TODAYSGOLD OWOH GIVEAWAY IS OPEN TO EVERYONE WITH OR WITHOUT A BLOG ~ JUST FOLLOW THE SIMPLE RULES
#1 You must leave a comment to be eligible to win.
#2 You must have a way to link back or leave your email address so you can be contacted if you should win.
#3 All entries must be made before midnight February 14th 2010.
#4 Three winners will be announced February 15th 2010.
#5 All entry names will be printed out, rolled into a ball & placed in my Genie Bottle, shaken not stirred & the first three to pour out are the winners.
* UPDATE 1/31/10 ~ TWO EXTRA ENTRIES in your name will be added to my Genie Bottle if you join my Follow Me list. WHY? Because everytime someone links to a blog it raises both blogs standing in Google & all the search engines.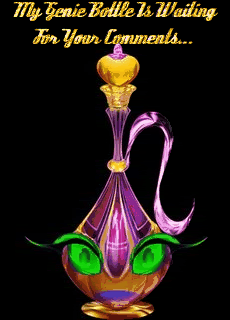 WHILE VIEWING YOUTUBE PLEASE PAUSE THE PLAYLIST BELOW

If you have a blog & would like to join the giveaway just click the OWOH logo above or at top in my sidebar for all the details...
Thank you all for partaking in this fabulous ONE WORLD ONE HEART kindred spirit open house tour. Before you leave please don't forget to leave a comment & have fun!!!
Cosmic Blessings With



May Your Valentine's Day Be Magical!
Lyndy Ward
THE VINTAGE FORBIDDEN PLANET 1967
POSTCARD FEATURING ALTAIRA
& ROBBY THE ROBOT ON
THIS POST IS ALSO FOR SALE

JUST CLICK ~ COOL COLLECTIBLES
The Vintage Forbidden Planet 1967 Postcard Featuring Altaira & Robby The Robot on this post is part of our personal Cool Collectibles Collection & can be purchased in our eBay Store. For information & PICs of our Postcards & COOL COLLECTIBLES please click above.
© 2007 ~ 2010 Todaysgold Publications ~ All Rights Reserved ~