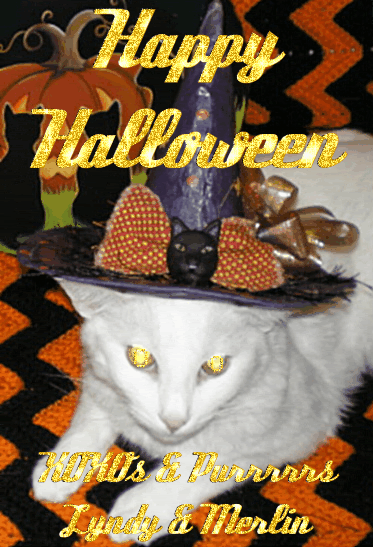 AND THE WINNERS ARE...
AND THE WINNERS ARE...
THE MUNSTERS TV PROMOTIONAL POSTCARD
Melissa Valeriote ~ The Holiday Queen

FORBIDDEN PLANET MOVIE PROMOTIONAL POSTCARD
Suzanne Urban ~ Suzanne Urban Designs

THE BATMAN TV PROMOTIONAL POSTCARD
Theresa MacNaughton ~ Faerie Moon Creations
CONGRATS TO ALL MY HAUNTED HALLOWEEN GIVEAWAY WINNERS!!!
Winners please email me your current address so I can send these on their way. Don't have my email addy? Than please leave me your email addy or address here on my approval only comments & I promise not to post your personal information. Thank You...

MY SPOOKTACULAR MERLIN HALLOWEEN PHOTO PROPS
Are from my vast Original One Of A Kind
(OOAK) Halloween Collection.

* Bewitching OOAK sculpted black cat
purple witches hat gift from
Becky Federico ~ Federico Fantasy Art

* Beautiful OOAK Halloween orange & black hand
knitted afghan throw purchased from
Barbara Strohmeier ~ Halloween Art Studio

* Fabulous OOAK Happy Haunting black cats
pedestal purchased from
Carolee Clark ~ King Of Mice Studios
ALL POSTCARDS THAT WERE TODAYSGOLD HALLOWEEN
GIVEAWAY ARE ALSO FOR SALE

JUST CLICK ~ COOL COLLECTIBLES
All Postcards that were Todaysgold Halloween Giveaway are part of our personal Cool Collectibles Collection & can be purchased in our eBay Store. For more information & PICs of our Postcards & COOL COLLECTIBLES please click above.

I Want To Thank Everyone For
Flying By On My Second Annual
Halloween Party & Giveaway.

SAMHAIN BLESSINGS TO ALL

Please Remember To Keep Your Pets
Inside Tonight For Their Safety!

XOXOs & Purrrrrs,
Lyndy & Merlin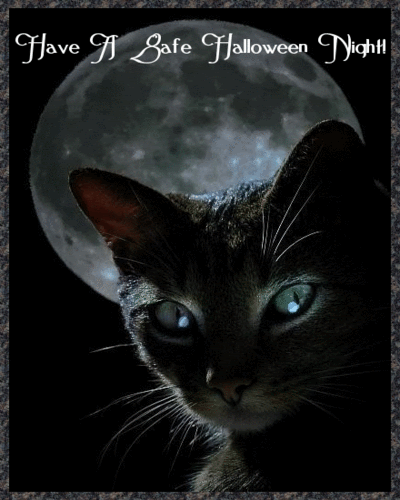 Halloween Party Giveaways Update:
PICs & Links Of The Gifts I Won...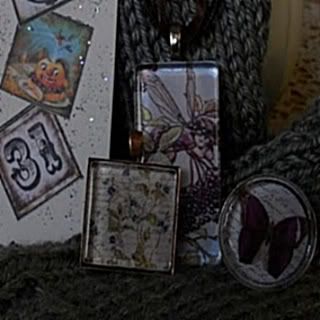 WOWY WOW I won a treasure trove of beautiful gifts; Fabulous pair of grey Handknit Fingerless Gloves, lovely vintage images Bookmark, pretty purple Butterfly Ring, darling 1x2" Flower Fairy Pendant & sweet 1x1" purple Flower Pendant. All these beauties are from
Joane Duran ~ Ivory Pumpkin
Thank You So Very Much!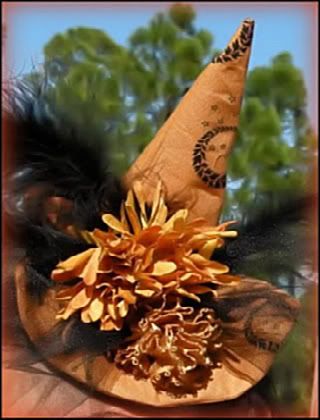 WOW I won an awesome Mini Witch Hat gift from
Vania Cruz-Perez ~ Fantasy Whispers OOAK
Thank You So Much!
Lovely Gifts Ladies,
Cosmic Blessings, Lyndy & Merlin
© 2007 ~ 2010 Todaysgold Publications ~ All Rights Reserved ~