CHECK OUT THE GORGEOUS BLACK CAT WOMEN 4TH OF JULY UPDATES BELOW...
MISS FURY MARLA DRAKE
The Black Fury, later known as Miss Fury whose alter ego was wealthy socialite Marla Drake. Miss Fury was the first female superhero created by a female cartoonist Tarpé Mills. A character based loosely on Mills' own appearance & the artwork was created in a glamorous 1940s style. Miss Fury's crime fighting costume was a sexy tight black Leopard skin that covered her from head to toe.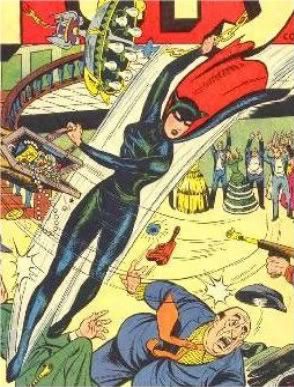 The Bell Syndicate which handled Mutt & Jeff launched Miss Fury as a Sunday page on April 6th, 1941. The Miss Fury Sunday series ran until 1952. Marvel Comics reprinted her adventures in a series of eight comics published 1942 to 1946.
Tarpé Mills cat Perri-Purr had been introduced into the strip as Miss Fury's cat & became the unofficial mascot for the allied troops during World War II.
* Thank you Darci for the Miss Fury comment. Your kindness helped my research continue in the right direction.
****************************
THE ORIGINAL BLACK CAT LINDA TURNER
The coolest super heroine of them all, Linda Turner alias The Black Cat! The Black Cat first appeared in Pocket Comics #1 September 1941. Published by Harvey Comics, created by Al Gabriele & the artist was Lee Elias. When most people think of Harvey Comics, they think of Casper 'The Friendly Ghost'.
RECOLLECTION: THE ORIGINAL BLACK CAT
In real life, Linda Turner 'The Black Cat' was of course, a Hollywood Movie Star. Linda was the daughter of silent film western actor Tim Turner & a former Hollywood stunt woman, who had successfully made the transition from stunt woman to lead actress. During the filming of a Hollywood movie, Linda suspects the film's director of being a Nazi spy. In order to follow him & gain corroborating evidence, she disguises herself in a backless blue blouse, red shorts, blue flared gloves, red buccaneer boots & a blue opera mask. Linda calls herself The Black Cat.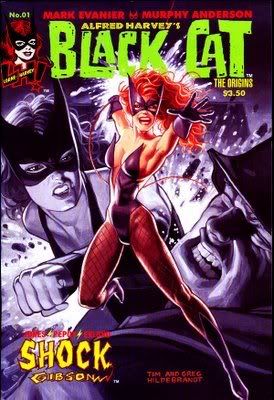 LATEST EDITION: THE BLACK CAT
The Black Cat became a series of 65 issues from 1946 through 1963. There are reissues ~ recollections The Original Black Cat Series Sets some printed in 1991. All comics original to reissues are worthy of their investments.
According to Scoop Comic's Newsletter, a Comics Guaranty 'CGC-certified 4.0 very good condition' copy of Action Comics #1 1938, the debut of Superman sold for $195,000 in May 2006. This out-priced the 2004 expensive comic book sale of a 'CGC-certified 9.4 near mint condition' copy of Amazing Fantasy #15 1962, containing Spider-Man's first appearance, by more than $70,000.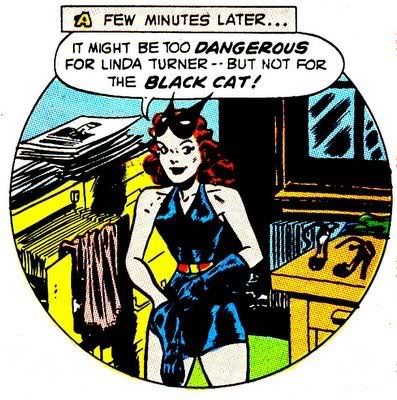 WOW, DO YOU HAVE ANY COMIC BOOKS IN YOUR ATTIC???
****************************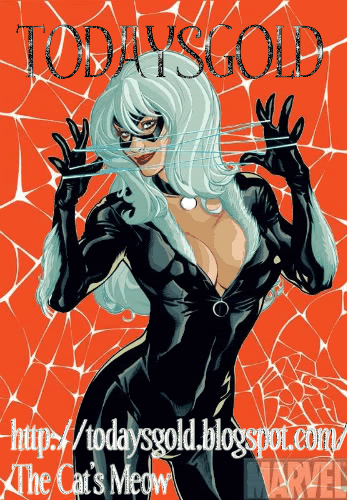 BLACK CAT FELICIA HARDY
This sexy feline is a fictional Marvel Comics anti-hero character that has been both a one time foe & ex-girlfriend of Spider Man. The Black Cat was created by writer Marv Wolfman & artist Keith Pollard. She first appeared in The Amazing Spider Man issue #194 July 1979. The Black Cat is a skilled reformed cat burglar who is a current crime fighter & adventurer.
****************************
This is the first Top Ten Cat Women List ever created. So bear with me as I complete my research.
Let's recap the SUPERHERO CAT introductions:
#1 MISS FURY MARLA DRAKE ~ APRIL 1941
#2 BLACK CAT LINDA TURNER ~ SEPTEMBER 1941
#3 BLACK CAT FELICIA HARDY ~ JULY 1979
STAY TUNED FOR EVEN MORE BLACK CATS ON THE PROWL!
MEOW, LYNDY
© 2007 ~ 2008 Todaysgold Publications ~ All Rights Reserved ~