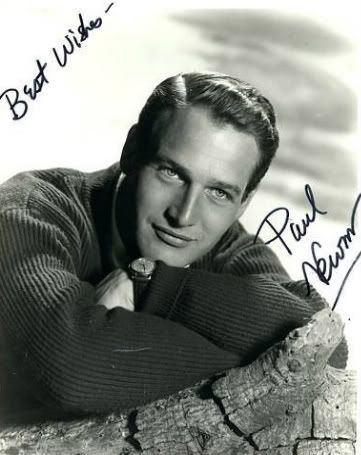 "If you don't have enemies, you don't have character."
PAUL LEONARD NEWMAN
January 26, 1925 ~ September 26, 2008
Paul Newman, American Actor, Film Director, Entrepreneur, Humanitarian & Auto Racing Enthusiast. Paul was 83 when he passed away Friday at his longtime farmhouse in Westport Connecticut. Paul died of complications arising from lung cancer. His family & close friends were by his side.
* ACADEMY AWARD NOMINATIONS
BEST ACTOR WIN:
The Color Of Money
BEST ACTOR:
Cat On A Hot Tin Roof
The Hustler
Hud
Cool Hand Luke
Absence Of Malice
The Verdict
Nobody's Fool
The Road To Perdition
DIRECTOR:
Rachel, Rachel  
* NEWMAN'S OWN
Food line started in 1982 with salad dressing. Later added popcorn, salsa, marinades, spaghetti sauce, lemonade, cereal & steak sauce. Generated more than $220 million in donations for charities.
* CHARITIES
Founded camps for severely ill children & a foundation to fight drug abuse. Most notable, The Hole in the Wall Gang Camp a no fee camp for children with cancer & serious blood diseases.
Just Click:
THE HOLE IN THE WALL GANG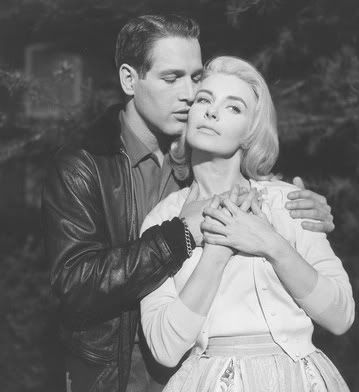 * MARRIED FOR 50 YEARS
January 29, 1958 to the beautiful Oscar winner Joanne Woodward, making this one of the longest Hollywood marriages on record.
Paul's secret for never straying: "I have steak at home! Why should I go out for a hamburger?" 
* PIERCING BLUE EYES 
Paul Newman was color blind, which prevented him from becoming a Navy pilot in World War Two. 
* POLITICS
Paul was on Richard Nixon's 'Enemies List' for supporting Liberal Democrat Eugene McCarthy in 1968 presidential election.
Paul called it: "The highest single honor I've ever received." 
* AUTO RACING
Inspired by his starring role in 'Winning' in 1969. Paul's first professional race was in 1972. He continued competing into his 70s.
* SENSE OF HUMOR
Major practical joker, he once cut director George Roy Hill's desk in half with a chainsaw. Paul put 300 chicks into director Robert Altman's trailer.
* BIGGEST FLOP
Paul's first movie role, 'The Silver Chalice' 1954. He took out a full-page ad in the Hollywood Variety newspaper to apologize.
* LAST MAJOR ROLE
Road To Perdition 2002. Paul played a gangster opposite Tom Hanks, he was nominated for an Oscar. He told ABC in 2007 that his acting career was essentially over. "I'm not able to work any more as an actor at the level I would want to ... so that's pretty much a closed book for me."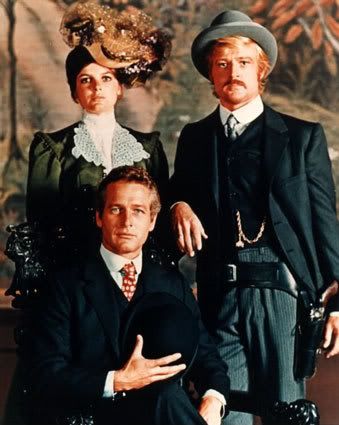 BUTCH CASSIDY & THE SUNDANCE KID
My personal favorite Paul Newman & Robert Redford movie.
With Katharine Ross as Etta Place
Paul Newman's legacy will always be that he was a gorgeous talented giving movie star, an Original One Of A Kind (OOAK) amazing man & incredible Hollywood legend. He will be greatly missed...
Our Prayers & Condolences go out to Paul Newman's Family & Friends.
Blessings Always, Lyndy Ward
© 2007 ~ 2008 Todaysgold Publications ~ All Rights Reserved ~