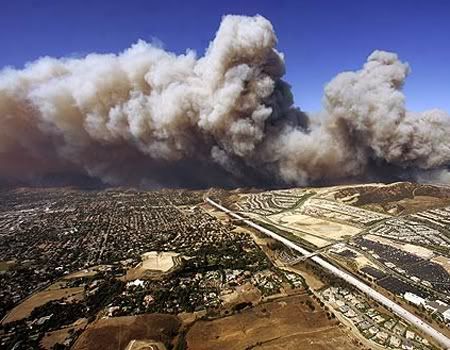 Sesnon Wildfires Granada Hills & Porter Ranch
Top ten things to grab when you have to hit the ground running:
# 1 YOU, YOUR FAMILY & PETS
Always save life first!
# 2 IDENTIFICATION (DRIVERS LICENSE) & IMPORTANT DOCUMENTS
Can't get back into your disaster area without ID.
# 3 COMPUTER(S), LAPTOPS & EXTERNAL HARD DRIVES
Most computer(s) have their owner's lives on them.
# 4 PHOTOS/CAMERAS & SENTIMENTAL SMALL ITEMS
Irreplaceable.
# 5 PRESCRIPTION MEDICATIONS
Life saving.
Sesnon Wildfires Granada Hills & Porter Ranch
# 6 CELL PHONE & IMPORTANT PHONE NUMBERS
Important for emergencies.
# 7 CREDIT CARDS, CHECKS & CASH (INCLUDING COINS)
Provides emergency finance for food, clothing & housing.
# 8 GOLD (VALUABLE JEWELRY)
Protection from looters & disaster, we had looters!
# 9 YOUR TOP MOST VALUABLE COLLECTIBLE(S)
We have too much, so it would be the most valuable to help make a new beginning if need be.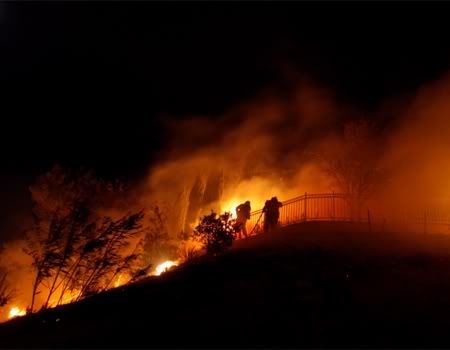 Sesnon Wildfires Granada Hills & Porter Ranch Fire Fighters
#10 EVACUATION KIT
Self Contained Top Ten Evacuation Kit Items:
* Battery Operated Radio & Extra Batteries
* Flashlight & Extra Batteries
* Bottled Water, Food Bars & Dry Pet Food
* First Aid Supplies, Bandages, Etc.
* Swiss Knife Kit
* Signal Flares & Whistle
* Solar Blanket(s)
* Towelettes & Disinfectant
* Sunglasses & Face Safety Masks
* Fire Extinguisher Small Canister, ABC Type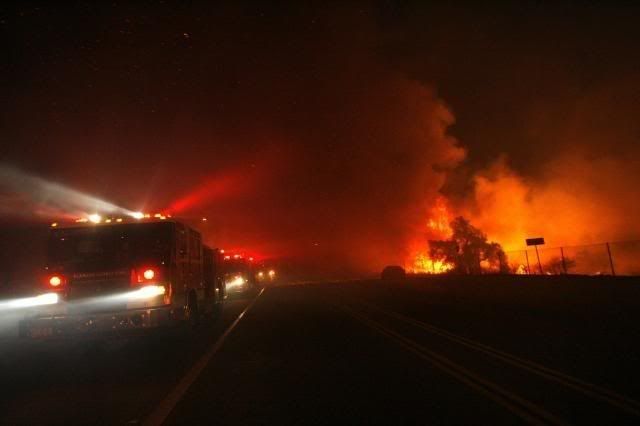 Sesnon Wildfires Crossing Freeway
After having to deal with numerous California Firestorm Mandatory Evacuations, LIFE (human & your pets) are the most important to save when you hit the ground running. Plastic medium to large lidded boxes (with handles) or suitcases are easy accessible & preferable for most of the above. There really is no excuse not to be ready if you live in a fire, flood, earthquake, hurricane, tornado or any disaster red flag zone. BE PREPARED!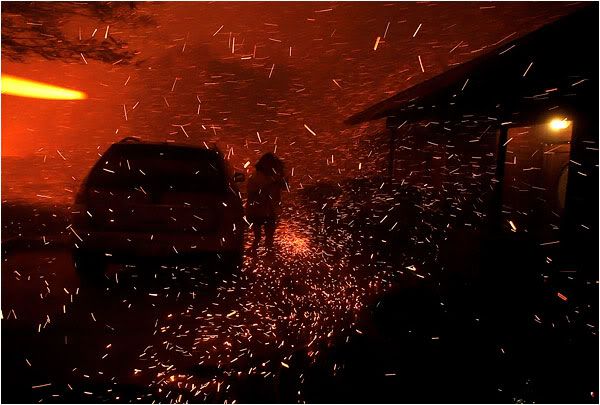 Sesnon Wildfires Sparks Raining
This is the second 2008 Southern California Firestorm & we had another Mandatory Evacuation. We were ready to leave with our fur babies if our surrounding property & house caught fire. We did not leave this time. We watered down all the burning embers & saved our home from any harm including looters. The police arrested five thieves in our area.
Sesnon Wildfires House Under Seige
The house & pool are black from soot & we are sick from smoke inhalation, even though we had been wearing breathing safety masks. We're exhausted & depressed by the on going battle against the elements & those horrible people that take advantage of victims by burglarizing their neighborhoods. We have brown & black outs because the DWP lost electrical transformers & the noncompliance with conserving energy during these emergency times.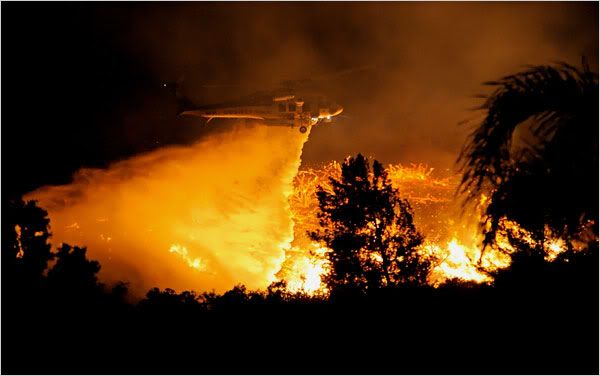 Southern California Wildfires Helicopter Water Drop
If you hit the ground running the above list(s) are imperative for survival. Especially if it were several days before you could get back to your home or if God forbid you lost everything.
Southern California Wildfires Quebec 1 Fire Retardant Drop
We SALUTE the exhausted FIRE DEPARTMENTS & POLICE DEPARTMENTS that valiantly risked their lives to help save our communities from completely succumbing to devastation.
Southern California Wildfires Smoky Malibu Sunset
If anyone has other suggestions on this topic please leave a comment(s).
Our hearts & prayers go out to those that lost their life, pets, homes & possessions.
GOD BLESS EVERYONE ESPECIALLY OUR HEROIC FIRE FIGHTERS!
My TOP TEN LISTS are my holiday gifts to all!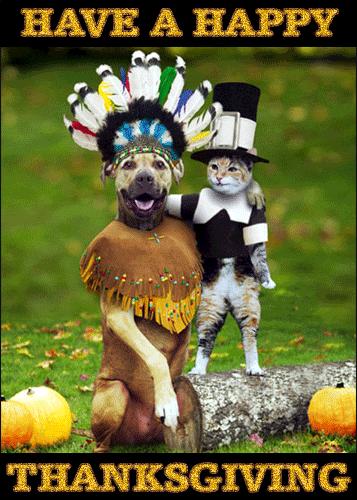 HOPE EVERYONE HAD A BEAUTIFUL THANKSGIVING
BRIGHT BLESSINGS, HAPPY & SAFE HOLIDAYS,
Lyndy & Tom Ward (Our Fur Babies Too)
© 2007 ~ 2008 Todaysgold Publications ~ All Rights Reserved ~