CASTING SPELLS OF LOVE & JOY
WITH THE MAGICK OF THE SPRING LIGHT
The Lady Lyndy Logo Portrait was a commissioned OOAK Art Work by my dear friend & incredibly talented artist ~ Just Click:
Chris Klingler ~ Design's By CK
Each of the Four Sacred Seasons: Spring Equinox, Summer Solstice, Autumnal Equinox & Winter Solstice, Dear Lady Lyndy will present for your viewing pleasure answers to your questions received through blogging comments &/or email.
The Spring Equinox celebration once again has disappeared & yet the Holiday celebrations continue on with a Beautiful Spring Season. The glory of Easter Magick is just around the corner. Lady Lyndy's seasonal Spring Topic(s) are: NEW POSITIVE BEGINNINGS, MIND, BODY & SOUL HEALTHY IMPROVEMENTS TO MORE INFORMATION ON THE PUBLISHING OF MY BLACK CAT HALLOWEEN ART BOOK(S).
DEAR LADY LYNDY,
How does one make a new beginning when the economy is collapsing?
GEORGE FROM NEW YORK ~ NEW YORK
DEAR GEORGE FROM NEW YORK ~ NEW YORK,
Stop stressing over the economy & start making your new beginning with the blessings you already have. Remember family & your belief system should be your center ALWAYS working with what you already have.
****************************
DEAR LADY LYNDY,
What can one do to keep their mind, body & soul healthy during these stressful times?
BAD DOG
DEAR BAD DOG,
Staying healthy includes a balanced diet, getting enough rest/sleep, good hygiene & plenty of exercise. People who practice good nutrition, rest, hygiene & exercise patterns develop a lifetime of habits that will keep them healthy for many years. Especially during the stressful times.
IMPORTANT: Keep your heart & mind strong by cutting out bad food additives. Read the labels on your grocery products.
****************************
DEAR LADY LYNDY,
Since everybody has had to cut back this New Year, will you still be able to publish your black cat Halloween art book?
MISS SALLY
DEAR MISS SALLY,
Thank you for asking about my black cat Halloween art book. Yes, but the time frame has been delayed due to our credit lines being frozen for now. I'm determined to see this black cat Halloween art book through, no matter how long it takes!
****************************
DEAR LADY LYNDY,
Have you asked anyone to help you with writing, photographing, computer organizing & publishing your black cat Halloween art book?
KARINA KELLY
DEAR KARINA KELLY,
Yes, I even provided a computer & a salary. But way to many wrenches were thrown in the path of completing this very special black cat art book even before this last economic crunch happened.
The friends & people that were suppose to help did not or could not follow through. This was very disappointing, especially since I've spent so much time & money on many supplies & various art works. I've learned my lesson well, only count on yourself when it comes to completing any book project.
****************************
DEAR LADY LYNDY,
First I would like to say, I always look forward to your informative Lady Lyndy Sorceress Of Light column.
When you get the funds & if you are self-publishing, have you decided what publishing company is probably best for your black cat Halloween art book?
BLACK CATS RULE
DEAR BLACK CATS RULE,
THANK YOU for your very nice comment. Yes, I don't want some fly by night self publishing company, so I have decided on the Amazon Publishing Company. That way my black cat Halloween art book will be in the Amazon Book Stores (Including the Internet Book Stores) & in the public libraries, especially school libraries, etc.... This will cost quite a bit more, but well worth it because of the distribution considerations.
PLEASE REMEMBER, that I'm dealing with 50 + artists & not just my own personal black cat art work. I never in my wildest dreams thought I could write & publish an art book of this magnitude over night. It took time & loads of money (all on my credit cards) just to acquire this black cat OOAK Halloween art collection.
So keep good thoughts & good prayers for my book project to keep moving forward. It was always about my love for all my favorite black cat Halloween art & artists in the first place.
****************************
~ MY BEWITCHING CONTEST WINS ~
THE HOLIDAY QUEEN'S Fantastical Followers Freebie
WOW & THANK YOU! Friday the 13th is my Lucky Day! I love this Black Cat Holiday Stick Fantastical Follower Giveaway. BLACK CATS ARE MY GREATEST LOVES in art & life. I have three real ones too! Melissa is a very talented Holiday artist. To view her wonderful blog
Just Click: Melissa Valeriote ~ The Holiday Queen
EHAG ART'S Frightful Giveaway
Click Links:
~ EHAG's 3rd Anniversary Frightful Fête Giveaway ~
Spooky Good Luck Again because I won! THANK YOU for this WICKED Giveaway &
Carolee Clark
for her Fabulous Painting.
ENCHANTING AWARDS
I've been given two more wonderful awards 'The Sisterhood & Proximidade' by my kindred & very talented sister Jodi Creager. Thank You Jodi! Here's another peek at Jodi's amazing art work ~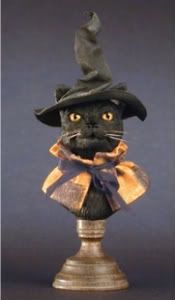 ~ THE FAMILIAR ~
OOAK Sculpted 3 1/2" Miniature Witch Black Cat Art Bust
I purchased this awesome work of art for my
Halloween Black Cat Collection.
Just Click:
Jodi & Richard Creager's Website
For Exceptional Fine Art Dolls & Miniatures
THE SISTERHOOD AWARD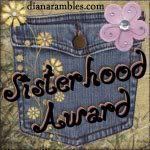 Here's a wonderful opportunity to really feel like were all a part of the Divine Secrets Of The Ya-Ya Sisterhood! Whenever you see this award on other blogs far & near, you'll know the secret of THE SISTERHOOD... OH sorry, it's ATTITUDE & GRATITUDE!
THE PROXIMIDADE AWARD
Here is the description of THE PROXIMIDADE AWARD..
"This blog invests & believes in the PROXIMITY ~ NEARNESS in space, time & relationships. These blogs are exceedingly charming. These kind bloggers aim to find & be friends. They are not interested in prizes or self-aggrandizement! Our hope is that when the ribbons of these prizes are cut, even more friendships are propagated. Please give more attention to these writers!"
AND I've also been given a very special award 'The Kreativ Blogger' by my dear friend & talented artist Chris Klinger. Thank You Chris! Check out Chris' fabulous OOAK Lady Lyndy Logo Portrait above...
THE KREATIV BLOOGER AWARD
Must List TEN FAVORITE THINGS:
* Sunrises
* Sunsets
* Full Moon Dancing With My Hubby & German Shepherd
* Peacock Feather Games With My Cats
* Picnics In Our Own Backyard
* Fireworks On The 4th Of July
* Godiva Chocolate On Halloween
* A Living Fir Tree For Christmas
* A Winning Lottery Ticket
* Giving To My Favorite Charities From That Winning Lottery Ticket...
BLOG AWARD INSTRUCTIONS:
1. RETRIEVE the SISTERHOOD, PROXIMIDADE & KREATIV AWARDS for your blog.
2. NOMINATE TEN BLOGS (more or less) SHOWING great SISTERHOOD, ATTITUDE, CREATIVITY & GRATITUDE!
3. Be sure to LINK to your NOMINEES within your post.
4. Add the AWARD PICS & AWARD DESCRIPTIONS.
5. List your TEN FAVORITE THINGS FOR THE KREATIV AWARD.
6. LEAVE a COMMENT ON NOMINEES BLOG that THEY have RECEIVED these AWARDS.
7. SHARE the SISTERLY LOVE & LINK to the PERSON THAT HAS GIVEN YOU the AWARDS.
IMPORTANT:
If you have already received DUPLICATE AWARDS, please PASS FORWARD the NON-DUPLICATE AWARD(S) with appropriate instructions.
My Award Benefactors & Links:
Jodi Creager ~ Creager Studios
Chris Klinger ~ Designs By CK
My Award Recipients & Links:
Melissa Valeriote ~ The Holiday Queen
Johanna Parker ~ Johanna Parker Design
Carolee Clark ~ King Of Mice Studios
Jennifer MacNeill-Traylor ~ Gypsy Mare Studios
Hermine Koster ~ Hermine's Place
Lori Davis ~ Vintage Palette Art
Chris Klinger ~ Designs By CK
Christy Meyers ~ CC's Whimsies
Kim Hardt ~ Kim Hardt Originals
Becky Federico ~ Federcio Fantasy Art
"Help one another, is part of the religion of sisterhood."
~ Louisa May Alcott 1832~1888 ~ 19th Century Philosophy
"Link one another, is part of the dedication of sisterhood."
~ Lyndy Rae Ward ~ 21st Century Philosophy
~ HOPE EVERYONE HAD A HAPPY EASTER ~
~ WITH BLESSINGS OF LOVE ~
PLEASE TAKE A PEEK AT MYSPACE(S) & FACEBOOK ~ BE IN MY MAGICAL CIRCLE OF FRIENDS Just Click:
TODAYSGOLD
~ AND ~
LADY LYNDY SORCERESS OF LIGHT
~ AND NEW ON FACEBOOK~
LYNDY WARD
Looking forward to the Summer Solstice & your questions received through blogging comments &/or email.
LADY LYNDY SORCERESS OF LIGHT is an advice column on COLLECTING ORIGINAL ONE OF A KIND FANTASY BLACK CAT ART WORK, HELPFUL TIPS ON KINDRED TOPICS & PROMOTING POSITIVE REINFORCEMENTS.
DEAR LADY LYNDY is written by Lyndy Rae Ward
© 2007 ~ 2009 Todaysgold Publications ~ All Rights Reserved ~