* Happy March Birthday To All The Talented PISCEAN'S & ARIEAN'S *

* TOP TEN LIST: FAMOUS MARCH BIRTHDAYS 2009 *
* RON HOWARD ~ 03/01/1954
Andy Griffith's TV son Opie Taylor grew into an Academy Award-winning American producer & director.
* DESI ARNAZ ~ 03/02/1917
Cuban bandleader/actor, played Ricky Ricardo on the second longest syndicated TV series 'I Love Lucy' 1951 & married/divorced to Lucille Ball. 'Meet The Press' 1947 is the longest syndicated TV series. Both TV shows are still being viewed daily around the world.
Desi Arnaz & Lucille Ball Forever In 'I Love Lucy'
Desilu Promo Photo 1951
* ALEXANDER GRAHAM BELL ~ 03/03/1847
Eminent scientist, telephone inventor & also trained teachers of the deaf.
* ANTONIO VIVALDI ~ 03/04/1678
Baroque music composer 'The Four Seasons Concerto', virtuoso violinist & Venetian priest.
* MICHELANGELO BUONARROTI ~ 03/06/1475
Italian Renaissance painter, sculptor, architect, poet & engineer. Created two of the most influential works in fresco in the history of Western art. The scenes from 'Genesis' on the ceiling & 'The Last Judgment 'on the altar wall of the Sistine Chapel in Rome.
Ceiling & Walls Of The Sistine Chapel
Michelangelo Buonarroti 1475 ~1564
* ALBERT EINSTEIN ~ 03/14/1879
Theoretical physicist & Nobel Prize in Physics best known for his Theory Of Relativity & specifically Mass–Energy Equivalence, E = mc2.
* ANDREW JACKSON ~ 03/15/1767
Seventh President of the United States 1829–1837. Military governor of Florida 1821, commander of the American forces at the Battle of New Orleans 1815 & eponym of the era of Jacksonian democracy.
.
* HARRY HOUDINI ~ 03/24/1874
Jewish Hungarian-American magician & escapologist, stunt performer, actor & film producer. Houdini died on Halloween October 31, 1926 promising his wife Bess that if it were possible, he would send a message to her 'from beyond', in secret code...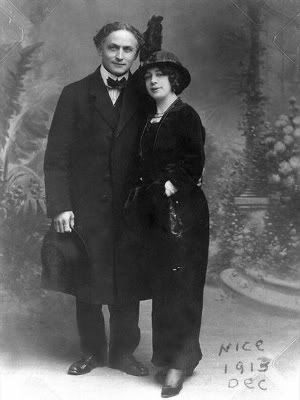 Harry & Beatrice Houdini In Nice, France 1913
* ROBERT FROST ~ 03/26/1874
America's leading 20th century poet & a four-time winner of the Pulitzer Prize. An essentially pastoral poet often associated with rural New England, Frost wrote poems whose philosophical dimensions transcend any region. "In three words I can sum up everything I've learned about life — It goes on."
* VINCENT VAN GOGH ~ 03/30/1853
Passionate Dutch Post-Impressionist artist. Some of his paintings are now among the world's best known, most popular & expensive works of art. In 1990 Van Gogh's 1890 Portrait of Dr. Gachet sold at auction for $82,500,000.00.
*
JODI CREAGER
a beautiful Pisces, extraordinarily talented miniature artist & awe-inspiring friend of mine presented me with two fabulous Blog Awards. Thank You Jodi for lifting my spirits & making my birthday month so special! Yes we fishies must stick together! AND just so everyone reading this can view your amazing talent ~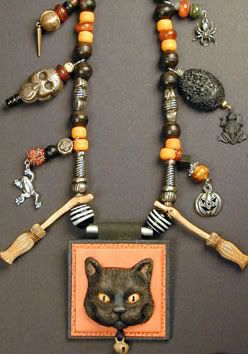 ~ MIDNIGHT ~
OOAK Sculpted Witch Black Cat Art Necklace
I purchased this gorgeous work of art for my
Halloween Black Cat Collection.
Just Click:
Jodi & Richard Creager's Website
For Exceptional Fine Art Dolls & Miniatures
* LAST BUT NOT LEAST THE FABULOUS AWARDS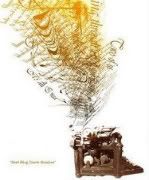 Part of these awards include the recipient adding to their blog...
Five Personal Addictions:
* FAITH, FAMILY & FRIENDS ~ Includes my hubby & all our fur babies.
* MUSIC ~ Playing my 1875 Bösendorfer grand piano & composing.
* CREATING ~ Having fun with painting & creating jewerly from vintage gems.
* GARDENING ~ Planting my magickal herbs & vegetables.
* COLLECTING ~ Especially Halloween black cat art for my Halloween fantasy books.
I'm passing these two fabulous Blog Awards to five more recipients just click on their names for more incredible talent & OOAK art work that is wonderfully magickal!
My Award Benefactor:
*
Jodi Creager ~ Creager Studios
~ Fine Art Dolls & Miniatures
My Award Recipients:
*
Becky Federico ~ Federico Fantasy Art
~ Chic Halloween Cat Art
*
Joyce Stahl ~ Enchanted Productions
~ Whimsical Art Dolls
*
Iva Wilcox ~ Halloween Alchemy
~ Lovely All Hallow's Eve Art
*
Kitty Forseth ~ Kitty's Glitter
~ Art With Sweet Invocations
*
Lori Rudolph ~ Retro Rudolphs
~ Paper Mache For The Holidays
* Blog Award Instructions: After retrieving your awards for your blog please pay them forward to five more recipients & add your five personal addictions to your blog...
* PLEASE REMEMBER TO LINK EVERYBODY, THIS IS CALLED NETWORKING. I have 100 + views per day to this blog (check my Feedjit for proof) SO PLEASE DO BECOME A FOLLOWER, THIS IS A GREAT WAY TO NETWORK AROUND THE WORLD! I just recently added the FOLLOWER LISTING under my FEEDJIT...
CHEERS TO ALL THE MAGICKAL MARCH BABIES & OF COURSE THAT INCLUDES ME ~ A PASSIONATE PISCEAN!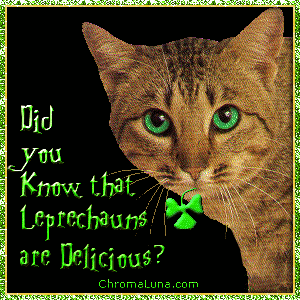 ~ HAVE A HAPPY SAINT PATTY'S DAY ~
~ WITH MAGICKAL DREAMS ~
~ BLESSINGS OF GOLD ~
~ AND LUCK OF THE IRISH ~
BOUNTIFUL BLESSINGS TO ALL, LYNDY
© 2007 ~ 2009 Todaysgold Publications ~ All Rights Reserved ~