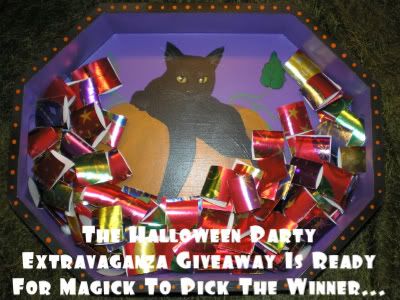 This pretty black cat tray is an OOAK Halloween art work created by
The Lovely & Talented
Click Link: Barbara A Strohmeier ~ Halloween Art Studio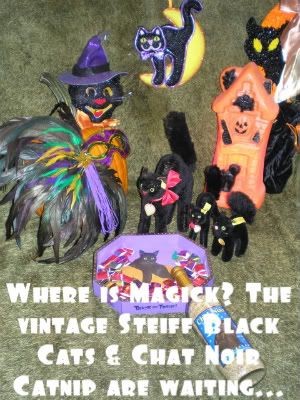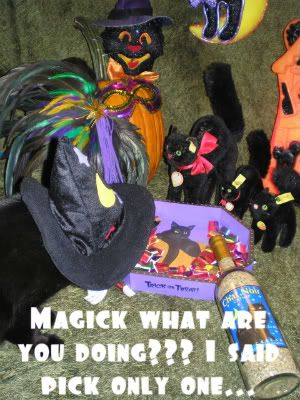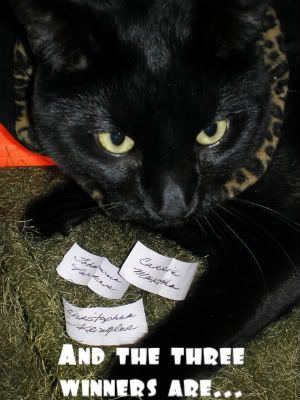 Chris Klinger ~ Designs By CK
Carrie Murtha ~ The Snip Pets
Johanna Parker ~ Johanna Parker Design
CONGRATULATIONS WINNERS
THANK YOU ALL FOR ENTERING MY FIRST GIVEAWAY!!!
I'll be sending these fabulous Munsters Postcards out to the even more fabulous Chris, Carrie & Johanna next week. Don't forget to cross promote by displaying your win (PIC of Postcard) somewhere on your Blog or Blog Post with a back (hard) link to:
Lyndy Ward ~ TODAYSGOLD
THE URL IS: http://todaysgold.blogspot.com/
This was fun, next time Magick will be choosing the winner without catnip...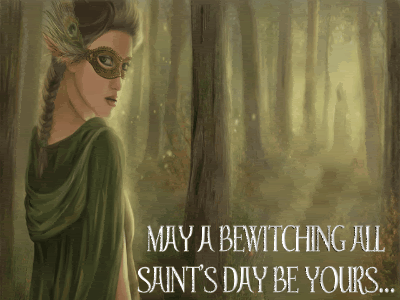 THE LITTLE GHOST
I knew her for a little ghost
That in my garden walked;
The wall is high ~ higher than most
And the green gate was locked.

And yet I did not think of that
Till after she was gone
I knew her by the broad white hat,
All ruffled, she had on.

By the dear ruffles round her feet,
By her small hands that hung
In their lace mitts, austere and sweet,
Her gown's white folds among.

I watched to see if she would stay,
What she would do ~ and oh!
She looked as if she liked the way
I let my garden grow!

She bent above my favorite mint
With conscious garden grace,
She smiled and smiled ~ there was no hint
Of sadness in her face.

She held her gown on either side
To let her slippers show,
And up the walk she went with pride,
The way great ladies go.

And where the wall is built in new
And is of ivy bare
She paused ~ then opened and passed through
A gate that once was there.

Renascence & Other Poems
By Edna St. Vincent Millay ~ 1892-1950
HAPPY ALL SAINT'S DAY ~
WHO IS FLUTTERING AROUND YOUR GARDEN...
COSMIC BLESSINGS, LYNDY WARD
© 2007 ~ 2009 Todaysgold Publications ~ All Rights Reserved ~