CASTING SPELLS OF LOVE & JOY
WITH THE MAGICK OF THE BEWITCHING LIGHT
COME MY PRETTIES, THE PARTY HASN'T ENDED
UNTIL ALL HALLOWS' EVE AT THE STROKE OF MIDNIGHT...
Each of the Four Sacred Seasons: Spring Equinox, Summer Solstice, Autumnal Equinox & Winter Solstice, Lady Lyndy presents for your viewing pleasure answers to your questions received through blogging comments &/or email preferably on collecting & selling Halloween & Black Cat OOAK Art Work.
Instead of questions & answers this Autumnal Equinox, Lady Lyndy Sorceress Of Light is presenting the First Annual Halloween Party Extravaganza complete with Todaysgold first giveaway...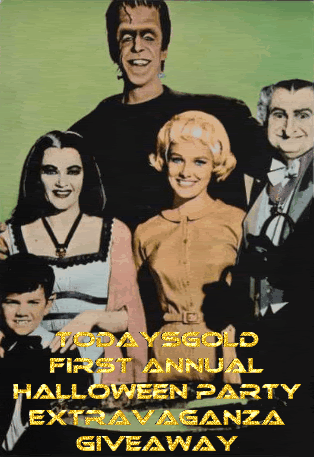 THE VINTAGE MUNSTERS 1967 POSTCARD
As seen above. The Munsters Television Series Promotional Postcard & it's very rare. Featuring: Fred Gwynne as Herman, Yvonne de Carlo as Lily, Pat Priest as Marilyn, Al Lewis as Grandpa & Butch Patrick as Eddie. The Munsters Postcard is 5 3/4" x 4" ~ Divided Back & Postally Unused. A SPOOKTACULAR Halloween Collectible. To read more about this postcard & other Cool Collectibles, please see my eBay auction gallery under the title header TODAYSGOLD...
RULES FOR TODAYSGOLD HALLOWEEN PARTY GIVEAWAY
* Just become a Follower (or Subscribe) AND
* Leave a Comment on this post.
* My black cat Magick will be picking out the winner as I will be sprinkling cat nip on all the entries. You have until Halloween Night when the lucky winner will be posted after Midnight Pacific Time.
CROSS PROMOTION 101
* The winner not only receives The Munsters Postcard but gets a promotional back link to their Blog.
* The winner has to cross promote by displaying their win (PIC OF PC) somewhere on their Blog with a back (hard) link to:
TODAYSGOLD ~ Lyndy Ward
THE URL IS: http://todaysgold.blogspot.com/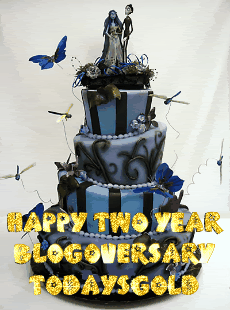 This is a very special time for me, it's my two year BLOGOVERSARY on 10/23/09. So my entire Blog is dedicated to my Halloween Party Extravaganza. This post includes my favorite Witches' Brew Recipe...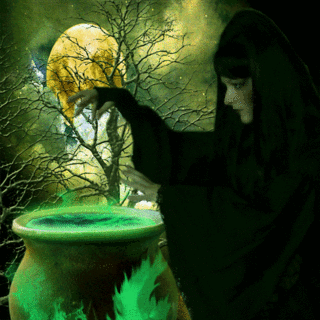 LADY LYNDY'S WITCHES' PARTY BREW
* One Cauldron 13+ Quart
* Four 48 Oz Cans ~ Pineapple Juice
* One 96 Oz Bottle ~ Orange Juice
* Four 2 Liter Bottles ~ Lemon-Lime Soda
* One 1.75 Liter Bottle ~ Vodka
* One 1.75 Liter Bottle ~ Rum
* Pour everything into your cauldron, stir well. Measurements are approximate. Adjust to your own taste & ENJOY!
* Don't forget to add chunks of dry ice to create the bubbling steam effect. Most supermarkets & ice cream stores sell dry ice.
* WARNING ~ Dry ice is extremely cold & can burn human flesh. NEVER drink, eat or have any direct contact with dry ice!
~*~ ELVIRA LOVES THIS PARTY BREW ~*~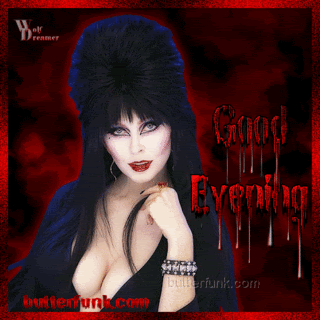 AND REMEMBER DON'T DRINK & FLY.....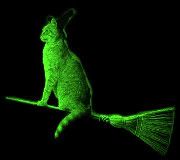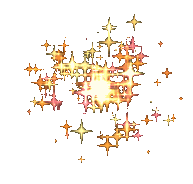 REMEMBER TO LEAVE YOUR HALLOWEEN PARTY LINKS OR JUST SAY HELLO FOR THIS POST SHALL STAY FOR ALL ETERNITY... HAVE A BEWITCHING & SAFE HALLOWEEN
COSMIC BLESSINGS, LADY LYNDY
ALSO WANTED TO ADD THAT THE FANCIFUL TWIST HALLOWEEN PARTY CELEBRATION WAS A BLAST!!!
A FANCIFUL TWIST
* LADY LYNDY SORCERESS OF LIGHT FIRST ANNUAL HALLOWEEN PARTY EXTRAVAGANZA & GIVEAWAY
* LADY LYNDY SORCERESS OF LIGHT is an advice column on COLLECTING ORIGINAL ONE OF A KIND FANTASY BLACK CAT ART WORK, HELPFUL TIPS ON KINDRED TOPICS & PROMOTING POSITIVE REINFORCEMENTS.
* DEAR LADY LYNDY is written by Lyndy Rae Ward
© 2007 ~ 2009 Todaysgold Publications ~ All Rights Reserved ~