THE LITTLE MERMAID ORIGINAL VINTAGE COVER ART 1960
P R E ~ D I S N E Y
This is the original vintage cover art for the 1960 Hans Christian Anderson The Little Mermaid story book. Signed by the artist JEANNE VOELZ in 1960 on the rear of the art illustration board. This original water color is a beautiful piece of art that originally came from the publisher's very own files. Want this GORGEOUS COVER ART in your own collection??? READ ON...
THE LITTLE MERMAID ART INFORMATION
* ARTIST: JEANNE VOELZ 1921 ~ 2009 American Artist
* SIGNED: Jeanne Voelz (signed lower bottom of backside, see PICs)
* TITLE: THE LITTLE MERMAID
* MEDIUM: Water Color on Art Illustration Board
* SIZE: 9.50 x 12.75" Border: 11.50 x 14.75"
* PROVENANCE: Original Saalfield Publishing Company file copy, as well as The Little Mermaid story book. The original art & story book were acquired in the 1970s & have been safely stored since then.
* CONDITION: Excellent
* OOAK: Original One Of A Kind!!!
THE ORIGINAL FILE COPY OF THE COMPLETE STORY BOOK
Included is the original file copy of the complete finished Little Mermaid story book. The story book was published by the Saalfield Publishing Company under the Artcraft division. File copies are extremely rare & valuable. SIZE: 9.50 x 12.25" CONDITION: Excellent
JEANNE VOELZ
Jeanne Voelz AKA Mary Jeanne Voelz 11/20/21 ~ 11/23/2009 was a popular illustrator during the 1950s & 1960s for the Samuel Lowe publishing company. Jeanne Voelz is known for her irresistible paper dolls 'Cuddles & Rags' as well as various celebrity paper dolls like That Girl ~ Marlo Thomas, Sandra Dee, Susan Dey, Sally Field, Jane Fonda, Sheri Lewis, Kim Novak, Donna Reed, Tuesday Weld & many more celebrities including cute characters for both Lowe & Saalfield publishing companies. Jeanne retired as a commercial artist.
ABSOLUTELY SPECTACULAR ORIGINAL ONE OF A KIND ART
The Little Mermaid is a One Of A Kind ~ OOAK watercolor fabulous cover art! The ultimate for the Little Mermaid or Disney collector. Get it here before it goes to a major Auction House & garners mega bucks!!!
COLLECTING COVER ART
Cover Art is the illustration or photograph on the outside of a published product such as a book, paperback, magazine, comic book, product package, video game, DVD, CD, videotape, audio album, manual, brochure & other collectibles. Enormous effort was put into the Cover Art & has historically been considered a main selling point to various published items. Cover Art collecting is a great companion to the collectible that has been published. Original Cover Art can garner thousands of dollars.
The Little Mermaid Cover Art pictured on this post is part of our personal Cover Art Collection & can be purchased in our eBay Store.
Just Click: COOL COLLECTIBLES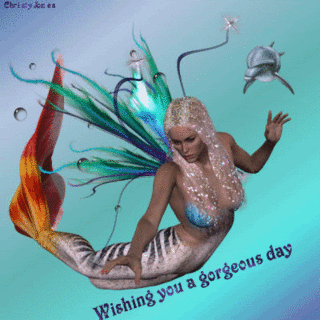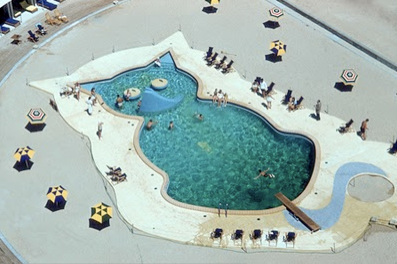 Swimming pool in the shape of a cat at the Fontainebleau Hotel Miami, Circa 1955
Cosmic Blessings With XOXOs, Lyndy Ward
© 2007 ~ 2010 Todaysgold Publications ~ All Rights Reserved ~