LADY LYNDY SORCERESS OF LIGHT
* When lightning struck on one Halloween night,
* Lady Lyndy & Elvira become one with the light,
* Casting spells of love, fortune & insight,
* With the magickal Autumn Witches' flight,
* May all your dreams & wishes now delight,
* Todaysgold Halloween party giveaway is bold & bright,
* So please enjoy the festivities on All Hallows' Night!
Hauntingly Yours, Lady Lyndy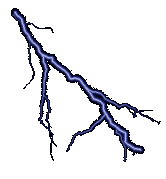 Greetings! Now follow this path & you may score,
A beautiful treasure that a Princess once wore...
Watch out for Spirits & Bats,
Especially the Sorceress' Familiar Cat...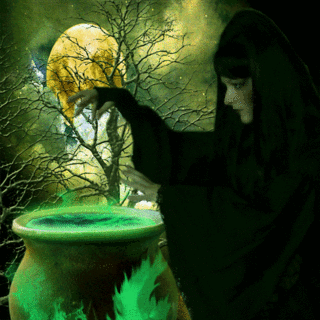 The Witches Brew is almost ready,
Eat, Drink, Dance & be Merry...

LADY LYNDY'S WITCHES' PARTY BREW RECIPE
* One Cauldron 13+ Quart
* Four 48 Oz Cans ~ Pineapple Juice
* One 96 Oz Bottle ~ Orange Juice
* Four 2 Liter Bottles ~ Lemon-Lime Soda
* One 1.75 Liter Bottle ~ Vodka
* One 1.75 Liter Bottle ~ Rum

* Pour everything into your cauldron, stir well. Measurements are approximate. Adjust to your own taste & ENJOY!
* Don't forget to add chunks of dry ice to create the bubbling steam effect. Most supermarkets & ice cream stores sell dry ice.
* WARNING ~ Dry ice is extremely cold & can burn human flesh. NEVER drink, eat or have any direct contact with dry ice!
Elvira loves this party brew,
It will curl your toes right on que...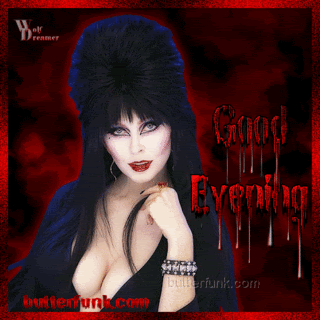 And remember don't drink & fly,
Or you'll fall off your broom when you're way to high...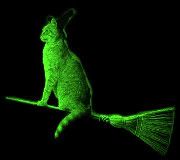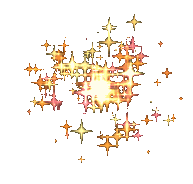 TRIPLE CELEBRATION ~ 10/23/11
* I have been blogging for 4 years,
* The time just flew by my dears,
* AND WOW, I have over 100,000 VISITORS,
* So this Giveaway is Super Spooktacular!
* OH YES, those Spirit Sightings are real,
* See right side column for Traffic Feedjit deal...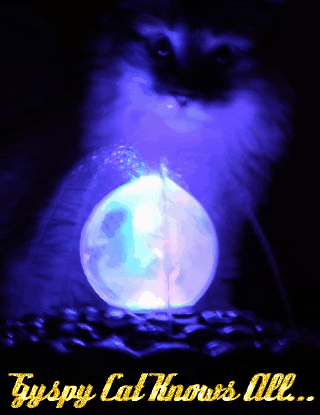 Enjoy the festivities & stay a Spell,
The Gypsy Cat has the future to tell...
Time for Todaysgold Halloween Giveaway Bling,
As you can see it's Princess Diana's Gorgeous Wedding Ring...
PRINCESS INSPIRED ROYAL WEDDING RING VINTAGE 1980s
* This elegant Princess Inspired Royal Wedding Ring features a prong set Cubic Zirconia Crystal Cut Sapphire oval center stone & 14 Brilliant Cut prong set clear CZ Diamonds ~ Crystals around the main stone which sits a 1/4" above the finger.
* The setting has a silver alloy finish that has the look of silver or white gold & a beautiful Crown Gallery.
* Vintage Circa 1980s. That's right, vintage approximately 30 years old. This is one of the first costume jewelry Princess Inspired Royal Wedding Rings.
* A Beautiful Princess Inspired Keepsake & Collectible that also includes a pretty black velour pull string jewelry pouch. AND if this is not your size: 8 1/2" you can always wear it on your favorite chain or use the included pretty silk lavender tassel cord to turn your beautiful Princess ring into a magickal dowser ~ crystal rings make incredible dowsers. GOOD LUCK...
Please read the Halloween Party Giveaway rules below,
To enter this contest one request; 'Follow Me' before you go...

RULES FOR TODAYSGOLD HALLOWEEN PARTY GIVEAWAY
#1 FOLLOW ME ~ A MUST FOR ALL GIVEAWAYS!!! Go to right side column just under Live Traffic Feed.
#2 MUST leave a comment on this post. You'll need a blog to participate.
#3 MUST leave a live link back or leave your email address so you can be contacted if you should win.
#4 MUST display your win with a live back link to Todaysgold ~ Lyndy Ward: http://todaysgold.blogspot.com/ because the winner will get a promotional live back link to their blog.
#5 HALLOWEEN 2011 GIVEAWAY ENDS at Midnight Pacific Time October 30. The lucky winner will be posted on October 31 ~ All Hallows' Eve.
My black cat Lady Lucky our castle's familiar,
will be picking out the one & only Lucky Winner...
IF YOU LOVE VINTAGE CELEBRITY MEMORABILIA PLEASE CHECK OUT OUR COOL COLLECTIBLES STORE

JUST CLICK ~ COOL COLLECTIBLES
The Princess Diana Wedding Ring on this post is part of our personal Cool Collectibles Collection & can also be purchased on this PAYPAL SECURED 'Buy It Now' link:

Princess Inspired Royal Wedding Ring Sz 7 1/2 ~ $49.99

Thanks For Flying By On My Third Annual Halloween Party & Giveaway.

Have A Wicked Good Halloween
& Keep Your Fur Babies Safe...

Spooktacular Blessings Always,
Lady Lyndy & Lady Lucky Kitty

AND REMEMBER
THE HOCUS POCUS WITCH'S WISH...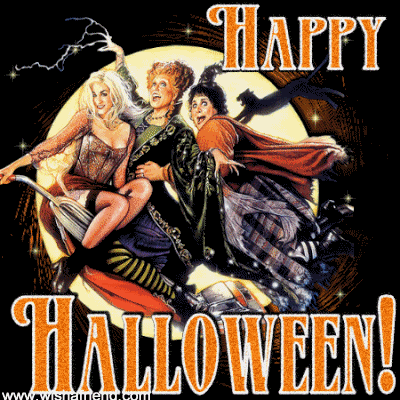 The Witches Tea Party Was Magickal!
Thank You Anna ~ FROSTED PETUNIAS
The Halloween Party Was Spooktacular!
Thank You Vanessa ~ A FANCIFUL TWIST
© 2007 ~ 2011 Todaysgold Publications ~ All Rights Reserved ~