FARRAH FAWCETT'S PERSONAL OOAK
14K EMMY AWARD JEWELRY PENDANT WITH COA
~*~ S O L D ~*~ T H A N K ~*~ Y O U ~*~
Everybody & their cat are selling personal items on eBay & blogging about it. So this will be the start of many items from my personal collection offered for sale on eBay. Not to mention our COOL COLLECTIBLES celebrity items also being offered. This is an incredible one of a kind 14k jewelry Emmy Award pendant owned & worn by Farrah Fawcett. Purchased from 'Star Wares Collectibles' in Los Angeles in 2001. Farrah Fawcett routinely sold her personal items to 'Star Wares Collectibles' for many years. My hubby purchased Farrah's beautiful Emmy Award pendant for me for one of our wedding anniversaries. AND if this beauty doesn't sell I'm keeping it...
GORGEOUS ONE OF A KIND FARRAH FAWCETT 14K EMMY AWARD PENDANT WEIGHS FIVE GRAMS ~ THAT'S 5 GRAMS!!!
This is a beautifully detailed, miniature Emmy Award pendant, solid gold, hallmark 14K on bottom of the base. Size is approximately 1 1/4" x 5/8". This gorgeous Emmy Award Pendant has a gold loop for wearing with chain (no chain came with this piece).
STAR WARES COLLECTIBLES COA INCLUDED
Comes complete with Certificate Of Authenticity ~ 'COA' from 'Star Wares Collectibles' & detailed hang tag as shown in our PICs on eBay. It would be hard to find a more intimate, important piece from this much beloved actress. From Farrah directly to 'Star Wares Collectibles' where she sold numerous items including her clothes, jewelry, household effects & many other items from her home in the early 2000s for resale. This is a RARE PRISTINE condition ONE OF A KIND 14K Emmy Pendant owned & worn by the beautiful Angel FARRAH FAWCETT!
FARRAH FAWCETT RECEIVES POSTHUMOUS 2009 EMMY NOMINATION
Farrah Fawcett received her fourth Emmy nomination posthumously as an executive producer of Farrah's Story, the NBC documentary that chronicled her two & a half year battle with cancer.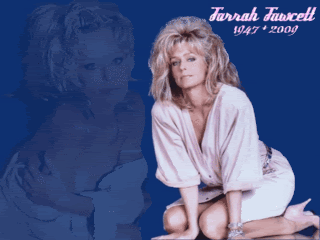 JUST CLICK: THE JACKPOT
For Farrah's Pendant With Many More PICs
& Our Ebay Listings For Rare
Vintage Celebrity Memorabilia
COSMIC BLESSINGS ALWAYS, LYNDY WARD
© 2007 ~ 2009 Todaysgold Publications ~ All Rights Reserved ~