AUGUST 15th 2009 WAS THE 40th
ANNIVERSARY OF THE 1969 WOODSTOCK FESTIVAL.
THE WALLKILL, NY #1 WOODSTOCK POSTER 1969
CREATED BY ARTIST DAVID BYRD
The producers of the Woodstock Festival had originally planned to hold it in Wallkill, New York. Shortly after this poster was printed the permit was revoked by the town of Wallkill. As a result, very few of these posters were issued.
THE FLOWER POWER VW VAN
After I spent three days at the 1967 Monterey Pop Festival, my mother refused to let me go cross country with my boyfriend & friends in their psychedelic peace sign painted VW van.
* Click Here To See:
LYNDY'S MONTEREY POP FESTIVAL TRIVA & MORE...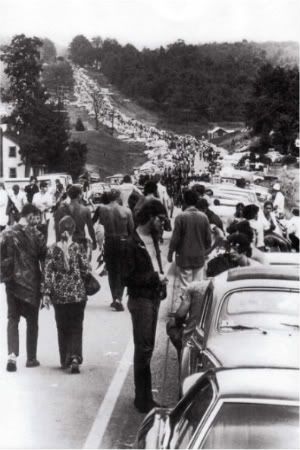 THE ROAD TO WOODSTOCK

That's the New York State Freeway which had to be shut down...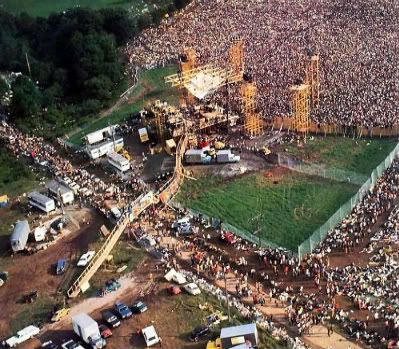 WOODSTOCK HALF A MILLION STRONG
So I can't wait to see director Ang Lee's new movie about the creation of the legendary concert, 'Taking Woodstock'. If you want to see the original songs the way they were played at the concert, you'll need to check out the 40th anniversary edition of the 'Woodstock' documentary that has just been released complete with bonus material that wasn't on the last DVD release.
THE WHITE LAKE, NY #2 WOODSTOCK POSTER 1969
CREATED BY ARTIST ARNOLD SKOLNICK
The Woodstock dove is really a catbird; originally, it perched on a flute. "I was staying on Shelter Island off Long Island & I was drawing catbirds all the time," said artist Arnold Skolnick. "As soon as Ira Arnold (a copywriter on the project) called with the copy-approved 'Three Days of Peace & Music', I just took the razor blade & cut that catbird out of the sketchpad I was using. "First, it sat on a flute. I was listening to jazz at the time & I guess that's why. But anyway, it sat on a flute for a day & I finally ended up putting it on a guitar."
If you really want to celebrate the 40th anniversary of Woodstock, do it with some of the greatest songs that were played at the concert. Here is Lyndy's Woodstock Top Ten Song List all about promoting Peace, Love & Music...
* 1 WITH A LITTLE HELP FROM MY FRIENDS by Joe Cocker
Joe Cocker sings one of the most passionate songs about friendship. His voice will give you chills. There was no lip-synching at Woodstock & you can tell that the musicians were there to share their songs & their messages.
* 2 SUITE: JUDY BLUE EYES by Crosby, Stills, Nash & Young
This is one of my favorite songs that captures the mellow feel of the times about a breakup. Not at all depressing because it captures that feeling to be free & full of love. One of the most sweet sounding vocal harmonies & acoustic guitar songs you'll ever hear.
* 3 PROUD MARY by Creedence Clearwater Revival
It's one of their songs that many other artists have played over the years. The line "People on the river are happy to give" really captures the hippie spirit of sharing & caring for one another.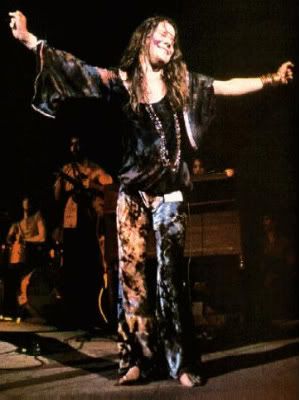 JANIS JOPLIN ON STAGE AT WOODSTOCK
* 4 PIECE OF MY HEART by Janis Joplin
Janis Joplin is one of the iconic artists of Woodstock & this heartfelt song about heartbreak is one of her most beloved songs still today. Janis Joplin wanted to show the world that a woman can be tough & that her heart was as big as the crowd at Woodstock.
* 5 DANCE TO THE MUSIC by Sly & The Family Stone
Everyone was dancing to the music at Woodstock & while Sly doesn't look like your typical hippie musician his performance at Woodstock was infused with a little funky soul.
* 6 MY GENERATION by The Who
It's a song that has gone on to define the 60s & the defiant but peaceful culture of the era. Seeing how the generation before them viewed their new way of thinking "I hope I die before I get old" was a line many young people at Woodstock identified with.
* 7 WHITE RABBIT by Jefferson Airplane
The 60's was an era full of Alices falling down the rabbit hole & Woodstock was the perfect Wonderland. Grace Slick's powerful voice complemented the psychedelic music perfectly. This song will definitely take you on a trip to that whole different world 'The Psychedelic 60s'.
* 8 WOODEN SHIPS by Crosby, Stills, Nash & Young
A smile is the same language all over the world & this song says it all. Free & easy harmonies with smooth guitar riffs. I can imagine watching the clouds go by at Woodstock while this song played on... It was time for our troops to pull out of Vietnam & I think that's what CSN&Y meant with their last words of the song that were "You don't need us... I think I'll set a course & go".
* 9 SPINNING WHEEL by Blood, Sweat & Tears
Like 'White Rabbit' it's one of the songs that captured the feeling of many of those in the crowd attempting to enhance their Woodstock experience with psychedelic music, imagery & great smokes.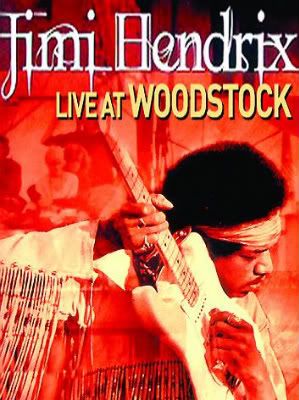 THIS IS MY FAVORITE PIC OF JIMI
* 10 STAR SPANGLED BANNER & PURPLE HAZE by Jimi Hendrix
Jimi Hendrix performs the national anthem with a touch of guitar voodoo. This is one of those songs that can never be played again, Jimi Hendrix just did things with his guitar that cannot be duplicated. When he went right from the 'Star Spangled Banner' into 'Purple Haze', it was the defining moment of what Woodstock was all about.
My September Playlist was dedicated to these top ten songs of Woodstock plus more of the favorites from Woodstock like CSN&Y's amazing iconic song 'Woodstock' about joining in a Rock N' Roll band. (Each month my Playlist changes for the season). I really had fun celebrating this year's 40th Anniversary of Woodstock with these great songs that captured the spirit of the 60's.
We will never have another Woodstock. However these great songs will continue to capture the imaginations of generation after generation of those who share a LOVE of PEACE & MUSIC.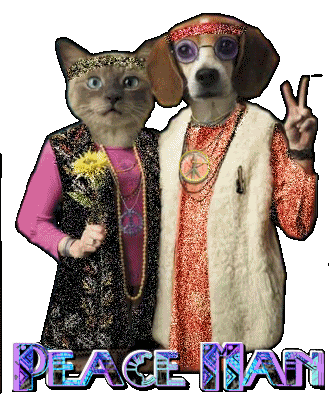 BLESSINGS OF LOVE, PEACE & HARMONY,
LYNDY WARD
© 2007 ~ 2009 Todaysgold Publications ~ All Rights Reserved ~